Registration opens on Jan 14th, 2019.
Echappée Belle is a unique ultra trail running in the Alps! It offers a really fun trail experience in mountain haven with mind-blowing views across all Belledonne range, with 40 km section non-stop at more than 2000m altitude, and only few little sections descending down to the valley. This race is an unforgettable experience for an ultra-trailer!
Echappée Belle is the race well known for its wilderness, its mountain spirit, and majestic skylines: mountain lakes, breathtaking mountain ridges, and unforgettable landscapes.
Echappee Belle is all in one: it attracts, it fascinates, it scares… and every year more and more runners from all around the world come to take this challenge on. Six years later its first edition, it became a major race in mountain trails world in Europe and worldwide.
Three races in altitude throughout the wild, steady and rocky Belledonne mountain range to live a unique experience!
Echappée Belle Intégrale, 144 km and 11100m elevation, solo or with pacer, from Vizille to Aiguebelle, for big funs of high altitude challenges. Very technical and demanding race with extremely challenging positive elevation. It can be done from in about 27h for first finishers, to up to 56h for last finishers. This ultra-trail is a real fun for experienced trailers who love stunning and challenging terrain.
The North Crossing, 85 km and 6050m elevation solo from Pleynet/Les 7 Laux to Aiguebelle, for sky-run-wild-terrain lovers. This race offers a great opportunity to discover the North face of Belledonne range by day and by night and its mythic Moretan Pass (be ready for 1500m ascent and 1500m descent in a raw!).
The Ridge Track, 57km and 4100m elevation, solo. 360° panoramic views across amazing Alps guaranteed. First half of this race is very technical and demanding. It can be a bit of a chllenge. Second part is definitely more enjoyable. For confident mountain trailers! Please note that the itinerary might be subject to change.
Save the date: Registration opens on Jan 14th, 2019 on www.lechappeebelledonne.com/fr/inscription/
For sake of security and well-being of trailers, number of participants is limited to 500 per race, and 100 addition places reserved for pacers of the Intégrale 144km race.
"You have to target only one specific trail in order to stay focused while training. If you have to choose, choose this one – it really worth it, and it is gorgeous!" Sébastien Raichon, 2nd finisher of 144km race in 2018.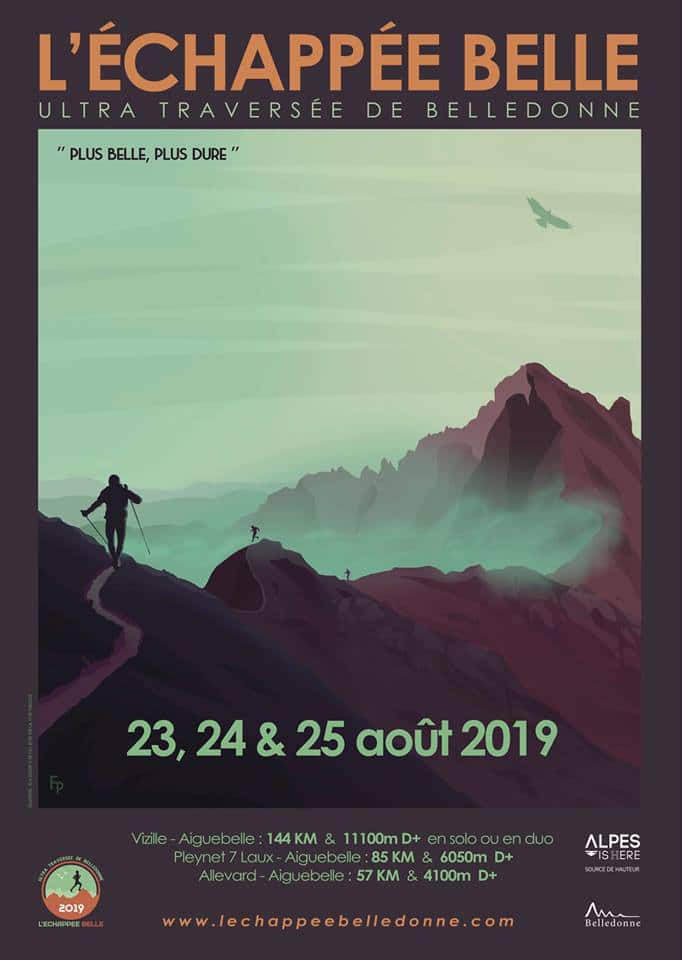 Comunicado de prensa (ES)
La séptima edición del Echappée Belle, Ultra Trail Running en Belledonne, se llevará a cabo los días 23, 24 y 25 de agosto de 2019.
Las inscripciones se abrirán el próximo 14 de enero de 2019.
La Echappée Belle es un ultra trail exclusivo en los Alpes! Ofrece una experiencia de trail verdaderamente agradable entre refugios de montaña con unas vistas increíbles de toda la cordillera de Belledonne, con una sección continua de 40 km a 2000 m de altitud, y donde solo unas pocas partes bajan en los valles. ¡Esta carrera es una experiencia inolvidable para un ultra-trailer!
L'Echappée Belle es una carrera conocida por su carácter salvaje, su espíritu de montaña y su majestuoso paisaje: lagos de montaña, impresionantes cordilleras y paisajes inolvidables.
L'Echappee Belle es todo en uno: atrae, fascina, asusta … y cada año más y más corredores llegan de todas partes del mundo para enfrentar este desafío. Seis años después de su primera edición, se ha convertido en una de las carreras de trail running más importantes del mundo.
¡Tres carreras en altura a través de la salvaje cordillera de Belledonne para vivir una experiencia única!
Echappée Belle Intégrale, 144 km y 11100 m de desnivel, solo o acompañado para un pacer, desde Vizille a Aiguebelle, gran diversión y desafío de altitud. Carrera muy técnica y exigente con impresionante desnivel positivo. Se puede hacer en aproximadamente 27 h para los primeros finishers, hasta 56 h para los últimos valientes corredores. Este ultra-trail es un verdadero placer para los trailers experimentados que aman un terreno increíble y difícil.
The North Crossing, 85 km y 6050 m de desnivel en solitario desde Pleynet / Les 7 Laux hasta Aiguebelle, para los amantes de los terrenos salvajes. Esta carrera ofrece una gran oportunidad para descubrir Belledonne de día y de noche con el legendario y asustador pase Moretan (¡prepárete para 1500 m de subida y 1500 m de bajada de un solo golpe!).
The Ridge Track, 57 km y 4100 m de altitud, desde Allevard hasta Aiguebelle. Vistas panorámicas de 360º de los Alpes. La primera mitad de esta carrera es muy técnica y exigente, y puede ser difícil. La segunda parte es ciertamente más agradable. Seguramente para trailers seguros de sí mismos.
A tener en cuenta que el itinerario puede estar sujeto a cambios.
No lo olvide: las inscripciones se abren el 14 de enero de 2019 en www.lechappeebelledonne.com/fr/inscription/
Por razones de seguridad y para asegurar el trato adecuado a cada corredor, el número de participantes se limita a 500 corredores por carrera, con 100 plazas adicionales reservadas para los dúos de la 144 km.
"Tienes que concentrarte en una sola ruta específica, elige una, ¡vale la pena y es genial!" Sébastien Raichon, segundo lugar en la carrera de 144 km en 2018.