Start of the registration January 16th, 2017/ January 2017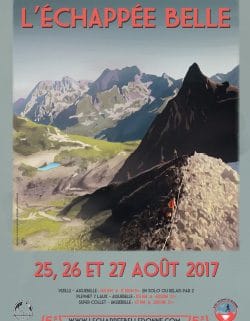 5th edition of ECHAPPEE BELLE, Ultra Crossing of Belledonne Mountain
Start of the registration January 16th, 2017
On August 25, 25 and 27, 2017, Echappée Belle a mountain challeng!
After 4 fantastic edition, Echappée Belle has taken a special place in the world of Ultra Trail. It stands out by its wild and mountainous character. With more than successive 40km over 2000m and a minimum of redescente in valley, the Echappée Belle oofer an unique experience and amazing landscape. The crossing of Belledonne Mountain cumulate technicity and commitment : difficult paths, altitude, difference of altitude, semi-autonomy (few pit stop)… but the award is up with a fantastic run (over 30 lakes of altitude, panoramic ridges and a summit at 2926m). More than an Ultra Trail it's a true adventure…with a family-friendly spirit.
Oscar Perez Lopez, Emilie Lecomte, Sangé Sherpa, Christophe Le Saux, Antoine Guillon, Sébastien Gérard, Lionel Bonnel, Renaud Rouanet… have all choosen Échappée Belle the last years! Like us venture off the beaten track, dare Échappée Belle and ring the finisher's bell in Aiguebelle.
3 races:
• L'Echappée Belle intégrale, 144km, 11 100mD+ (Vizille – Aiguebelle), takes part of the French challenge UMNT,
• La Traversée Nord (North Crossing), 85km, 6050mD+ (Le Pleynet/Les 7 Laux – Aiguebelle),
• Le Parcours des Crêtes (Ridge Track), 47 km, 2800mD+ (Le Super Collet – Aiguebelle).
2017 NEWS: the integrale crossing of Belledonne on DUO
The challenge: start for two, run for two, finish for two, because trail running is first and foremost a sport to share ! The duo race will have is own ranking.
Be careful, to preserve the friendly character of the race, the number of place is limited to 500 runners per race (added 100 places for the duo on 144km).
Check out the teaser of the 5th édition: https://youtu.be/RHmetwfI-F4
To get more information on the race:
http://www.lechappeebelledonne.com/
www.facebook.com/lechapeebelledonne
https://twitter.com/EB_belledonne
https://www.lechappeebelledonne.com/wp-content/uploads/2016/12/Affiche-2017.jpg
353
250
Échappée Belle
https://www.lechappeebelledonne.com/wp-content/uploads/2018/01/admin-ajax.png
Échappée Belle
2017-01-21 07:34:56
2017-04-03 09:12:45
Start of the registration January 16th, 2017/ January 2017